I interned in the Style Department of Domino for only two weeks this past September, yet I cried on my last day as I said goodbye to the beautiful, passionate, hard working people I had so quickly come to adore. I can't begin to imagine what they, the Domino staffers, are feeling right now. My heart goes out to them all. This was such a great magazine that so many of us loved. I'm by no means an insider in the Domino world, but I did have an amazing, though short-lived, experience there and I'd love to share a little bit about that with you.
I, like nearly everyone I know, am such a fan of the magazine. I have always liked magazines. When I was younger I enjoyed magazines like Glamour and Mademoiselle. As I got older I found myself drawn more to design and shelter magazines. And from the beginning Domino has, in my opinion, been the most inspiring of them all. Domino is/was something so unique and special and I looked forward to setting aside time to read it every month. It never failed to get my mind turning and it always left me feeling inspired. Getting the chance to work two full weeks for such a fabulous magazine was an absolute dream come true. Here is a little bit (or most likely a lot) about my experience at Domino:
Anyone who has read much of my blog will know that I can get extremely nervous in new situations and let me tell you, I was in full panic mode on my first day. I spend my days at home, often alone, working in front of my computer. I can't tell you what a challenge this was for me.
I arrived very early at the Conde Nast building in Times Square and waited in the lobby for Dara Caponigro or her assistant (at the time) Lucilla Eschmann to arrive. I say "at the time" because Lucilla left the magazine shortly after I was there. Once they arrived, security gave me a guest badge and sent me up to the 8th floor.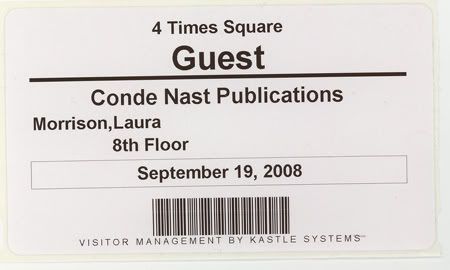 I was so nervous as I sat in the waiting area looking through back issues of the magazine. What would I be doing? Would they be nice? Would this be like "The Devil Wears Prada"? Can I even do this? My anxiety level dropped dramatically the minute Dara walked out and introduced herself. She smiled brightly and was so calm and cool as she led me back through the offices and showed me around. I was still a nervous wreck, mind you, but I suddenly felt like it was all going to be okay. Dara told me they had just finished an issue, so I was there at a good time (not a lot of stress) and she introduced me to Lucilla. Lucilla was amazing the entire time I was there. I often felt more like I was getting in her way than helping her out, but she was always patient and tremendously helpful with all of my tasks.
Dara mentioned that they had arranged for me to go on a few photo shoots but other than that I don't think they had a lot planned for me to do. They didn't know anything about me before I arrived so they didn't really know what I would be capable of doing or willing to do. Still, it wasn't a problem because every second there are a million things one can be working on and a million ways one can help out. I won't give you all the day by day breakdown, but I do want to talk about the photo shoots because they were so extraordinary to be a part of.
Photo Shoot #1:
The first photo shoot I helped out on took place at this super-cool artist's home in the Boerum Hill area of Brooklyn. Lucilla arranged to have a car pick me up at my hotel that morning and drive me to the shoot. Since I didn't know my way around the city or the subway at that point, I was very grateful for this kind gesture!
The shoot was for this:
The photographer was the extremely talented Gemma Comas and wow, was this ever a lot of work! Imagine about 1000 pieces of jewelry and baubles spread out across three or four tables and a couple of counters. Every piece had been scouted and ordered by the editors (Tori Mellott and Lauren Goodman) and their assistants (Mieke Ten Have and Sherrie Hui). I'm not sure exactly who did what, but at the photo shoot, it was part of Mieke and Sherrie's jobs to keep all of the pieces straight because everything would have to be returned to the stores the next day. Of course, they are all so familiar with the objects that any time something would be sitting out on its own and I would start to panic, one of them would say, "Put this in the Fred Flare pile" or "This goes with ABC Carpet and Home". At one point I asked Tori how she was able to keep it all straight. Joking (but not exaggerating), she said she is so familiar with every single thing on the marketplace that none of her friends can give her anything anymore because she knows exactly where it came from and what it cost.
I can't emphasize enough how much work went into this one photo. I didn't even see all the work that went into picking out and ordering all these pieces. But I did see how hard everyone worked that day. Although one might look at this photo and think the jewelry was casually and quickly arranged, that is in no way the case. Lauren and Tori went back and forth for hours, picking out just the right pieces that would work together and placing them in just the right locations. Lauren was calm and thoughtful in her approach. Tori was full of energy as she moved around the room, trying different options and making changes. They worked together incredibly well and it was really fun to watch. They would consult with the photographer who would offer suggestions and take test shots (a few of which I got to keep as souvenirs)!
All the while, Mieke and Sherrie would work alongside them, and I did my best to both stay out of the way and contribute when needed. Early in the afternoon Sherrie was called back to the office and she asked if I would stay and package up her part of the baubles. I was more than happy to because it always feels good to have something to do and not feel like you are just standing around. As busy as they all were, they went out of their way to talk to me and to ask me about myself. Stacie McCormick, the Photography Director showed up and even though I wanted to know all about her and her job, she wanted to know about me. I'm sure part of it had to be the curiosity factor about anyone who would want to intern for free for a couple of weeks. But there was just a spark among all of these people. They were interested, curious, enthusiastic.
The shoot took the entire day and then it was time to wrap things up. Mieke and I started packing and even though I think Lauren and Tori could've left at any point, they stayed and helped us out. There were over a hundred boxes that needed to be matched up with all the products and the vendors. Had everyone's organizational skills not been as phenomenal as they were, this would have been a complete nightmare. Instead, it went really quickly. We got everything matched up, packed away and we got most of it shipped back to the stores. The rest went back to the Domino offices and was packed up and sent back to the stores the next day. Mieke and I shared a cab back to Manhattan. She could not have been nicer or more helpful throughout the day (and the rest of my time there).
I guess the thing that surprised me the most about the shoot (aside from how much work can go into one photo) was its peaceful nature. I've been in so many situations much less stressful than this and I've seen people freak out and yell at each other over the tiniest things. SO much got done that day and yet everyone was so calm and organized and respectful of each other. I also loved that they never settled for anything less than the perfect photo. It would have been easy to just throw some things on a table and take a photo and call it a day, but they worked and worked and worked until they got just the right shot. It was so much fun to be a part of and even though it was a lot of work, I was already looking forward to the next shoot which took place the next day.
Photo Shoot #2:
This photo shoot took place in Rita Konig's amazing West Village apartment. This was one of the cool things about working for Domino. I saw so much more of the city (and the state) than I had ever seen on previous trips to New York. Unless you have friends there, you usually only see the insides of hotel rooms. This time I got to see how people actually live and it was such a treat!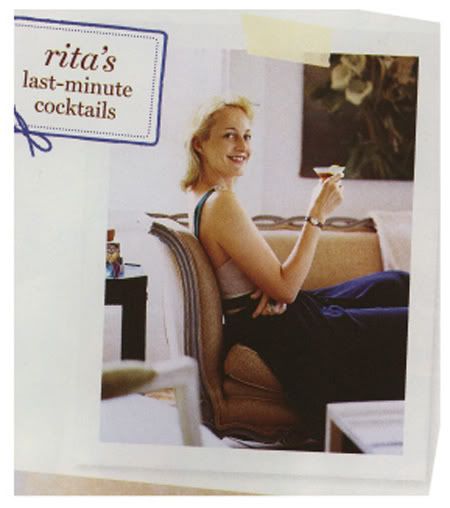 The shoot at Rita's started early and this time I managed to get myself there (via taxi as I was still scared of the subway). By the way, when I mention my fear of the subway, this fear is entirely about getting lost and ending up in another state. Navigation is not my strong suit. The photographer this time was Justin Bernhaut and both he and his assistant were incredibly fun to work with. Everyone there had really good senses of humor because the day was filled with laughter- again, not even the slightest bit of stress. Rita's apartment is small (you may have seen it photographed in the September issue) so we started the day by moving a lot of her books and other things into the hallway to make room for everyone and for setting up the shots. This shoot was really fun. I made my one and only coffee run as an intern:
I had expected to be fetching coffee every day but this was the only time. And I got the order right! 15 years of waiting tables finally paid off!
I spent most of the day running errands. We needed more bubble wrap for the glasses. We needed more sodas and non-alcoholic beverages for the bar. At one point Rita needed me to run back to the Domino offices in Times Square to retrieve some photos for her. Panic hit me as she told me I'd need to take the subway, however, she gave me her metrocard and provided THE most detailed instructions and I breezed right through it! Well, I got a little turned around trying to get back to her house, but everyone had taken a break for lunch so it didn't matter that I got a little lost and it took me longer than it should have to get back.
The best part of this day was the end. The photographers, the caterers, the assistants and the bartender all packed up and left and since there was more cleaning to do I stayed to help Rita. She was flying out the next morning so she wanted the house completely back in order before she left. The two of us brought all the books back in, put the furniture back in order, vacuumed the floors... does that not sound like fun? Well, it was. Rita was so delightful. We got the work done quickly and she suggested we have a drink before I headed back to the hotel. She popped open a bottle of champagne and there we sat, Rita Konig and me, in her beautiful apartment. I can't tell you how cool I felt at that moment. She was fascinating to talk to and so pleasant to be around. She sent me on my way with the rest of the bottle of champagne and a bouquet of flowers to perk up my hotel room. I was absolutely jubilant with excitement as my husband and I drank the champagne in our room and I told him about my amazing day.
Photo Shoot #3:
This is a sad one to talk about because you'll most likely never see these photos. I hadn't thought about it before, but in order to capture the fall colors for an outdoor story, a magazine has to shoot a year ahead of time. So this photo shoot was to appear in next September's issue.
I met Victoria Jones, a market assistant, extremely early one morning to take the Amtrak to Hudson. This was something else that I never would've done had it not been for Domino. The train ride was gorgeous! The train runs right beside the Hudson River so my view was of the river with leaves changing in the background on the opposite bank. I talked to Victoria the entire ride. Had I known what a long day it was going to be I would've kept my mouth shut and let her get some sleep. But I was dying to know everything about her and her job. Having read Domino for years, I was familiar with all of their names, so it was exciting to put personalities and and faces with the names and find out where they came from and what they were all about.
We arrived in Hudson and traveled by taxi to the most glorious farmhouse in the middle of nowhere. The view from the back of the house:
Just in case this story gets picked up and published elsewhere (oh, please!) I don't want to give too much away. I would love to mention the awesome designer who helped style this story but I guess I'm still holding on to the hope that the story will be used somewhere else. I don't even know if that could happen but it is a shame to think that all the work we did will just be tossed.
It was freezing cold when we got to the house and since the shoot was taking place outside, Victoria and I immediately started to work on the back porch, unpacking hundreds of products and putting them out so that the editors could see everything and easily set up the shots. With a dining scene there are lots of utensils and tabletop items to set up... a million little details. There was a long dinner table set up in the yard and when Dara and Eugenia Santiesteban arrived, they went to work styling the shots and working closely with the photographer. They had actually arrived in Hudson the night before so a lot of work was done before we got there. Still there was a lot to do and only so much daylight to work with so we all worked really hard to get everything set up.
Victoria and I helped out all day and around noon everyone took a lunch break. It was lovely. We all sat on blankets in the front yard of the home and we ate the most delicious food and had great conversation. It was wonderful dining on the grass in such a beautiful setting. It had warmed up and there was a nice breeze. It was an entirely different experience than I'd ever had in New York.
After lunch I got the most exciting surprise... I was going to be in the photo shoot!!!!!! I got sent up to the makeup artist where she styled my hair and spent quite a bit of time trying to make my nose look less red. Then they dressed me in some cute fall clothes and I was all ready to be a party guest! Most of the people at the shoot participated and posed as guests. I think the table was set for ten. There was amazing food and drink in front of us but we were instructed to pretend to eat and drink so that none of us had our mouths full in the shots. We shot the photos two ways... in one shot I was facing the camera and then they had us all switch sides so that in the next shot my back was to the camera. I didn't really care which one made it into the magazine. It was just all so exciting and glamorous!
The glamour ended pretty quickly after the shoot, though. The sun went down and in the pitch black night Victoria, Eugenia and I boxed up and labeled all of the products to be sent back. It was so dark I could hardly see and the cold had set in again. The homeowner brought us a couple of lanterns so we worked by lantern-light for about an hour getting everything packed up. The guys from Urban Express helped us get things loaded so that they could drive it all back to Domino.
Eugenia drove us back to Manhattan (I think it was about a three hour drive) and she dropped me off at my hotel a little after midnight. Dara had told me I could come in late the next day and I took full advantage of the offer! I came in around noon and there was Victoria, working away. I think she was there right when the offices opened. She and I spent the day verifying all the contents of the packages and getting everything shipped out of the office. I can't say enough good things about Victoria. She was so organized and so together and if memory serves me she is only 24. I was such a basket case at 24! I'm 40 now yet I learned so much watching her work and working alongside her.
I spent the non-photo-shoot days in the Domino offices, mainly researching stories, ordering products, trying to locate things on the internet and running errands. I got to work on the "Ask Dara" column, which was fun because I got be creative. Dara is the expert and had all the answers of course, but I got to contribute a little and discuss ideas and that was really fun. The offices were fabulous. Everywhere you looked there were inspiration boards, color boards, great products, catalogs, fabrics, everything you can imagine. I was so inspired by the colors on one of the boards Tori Mellott had done that I took a quick photo: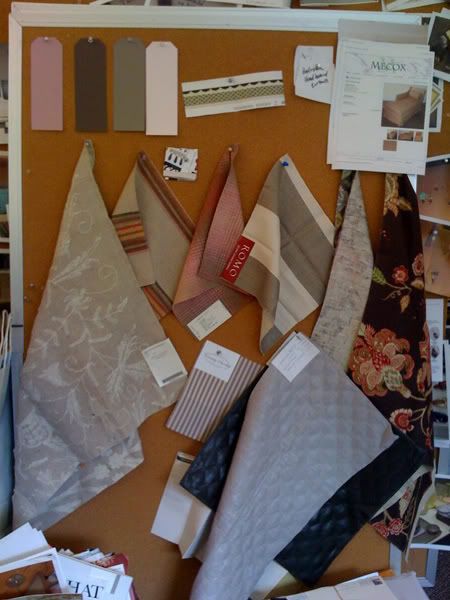 Boards such as this were all over the office. I wanted to take more photos but didn't want anyone to think I was some sort of corporate spy. Silly, yes, but I didn't want to take any chances on getting kicked out of there!
I was allowed to sit in on a staff meeting where they went story by story through the December/January issue and updated Managing Editor Sarah Min on their progress. At the meeting, Sarah introduced me to everyone and warmly welcomed me. Once I got to listen in (wasn't trying, I swear, but couldn't help it) on a great discussion between Tom Delavan and several others. I know I keep using the word "passionate", but I don't know what other word to use. (I'll try and locate a thesaurus for future posts.) Tom and the others were passionately discussing a story and trying to come up with ways to make it work and make it better. Again, I was so impressed with the way everyone strived for more. They wanted to go beyond "okay". You could just tell how hard they were trying and how important it was to all of them to put out the best magazine possible and not settle for anything less.
As someone who spends most of her time working alone, I found all of this creativity and passion and all of these people extremely inspiring. I left feeling uplifted yet overwhelmed with sadness. I love my job and I wouldn't trade it for anything, but I enjoyed every minute of my time there. It was so fulfilling and exciting to be surrounded by people who were working their hearts out to do something great. It makes you want to do something great, to be more creative, to try new things, to work harder and to do more. I came back home filled with energy and feeling like I could do anything.
I'm starting to get emotional again as I write this. Thank you, Dara, for giving me the opportunity to work at Domino and thank you, glorious staff, for welcoming me and treating me so kindly. I will miss you all and I will miss Domino with all my heart. Thanks for letting me be a small part of such a wonderful magazine, a magazine that will no doubt be mourned by millions for a long time to come. I'll never forget the experience and will continue to be inspired by my time there and by all the back issues I have saved. I wish you all the best!
I've been thinking that when the March issue comes, I might tuck it away and save it so that I will always have a new issue of Domino to look forward to.