Friday started off with back to back Schoolhouses given by two new Free Spirit designers mentioned in the previous post, Jay McCarroll (of Project Runway fame) and Melissa Averinos (of Yummy Goods fame). Along with Jay and Melissa, Annette Tatum and David Walker are also new to Free Spirit and introduced collections at this show. I can't believe I am in such great company!! For those who aren't familiar, a Schoolhouse is a 15 or 30 minute session given by, in this case, new fabric designers, where they showcase their collections and give the audience ideas on how to use their fabrics. Having never been to a class before, there was no way I was going to try and give one this go round, but I wanted to attend a few to get an idea of what they were all about on the off chance that one day I might be able to work up the courage to give one.
Jay's schoolhouse was, as expected, tons of fun. He kept everyone laughing the whole time and he posed for pictures with adoring fans prior to the start of his class.
He had lots of fun pillows and clothes and he gave us all a cute tote bag pattern: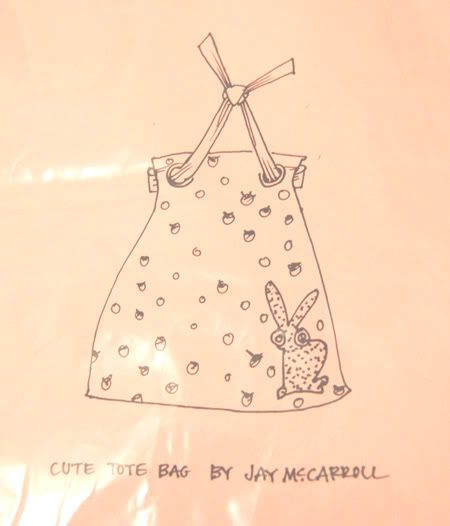 Maybe one day I'll be able to use the pattern because the totebags really were super cute!
Melissa gave the class right after Jay's and I didn't take any photos because I didn't want to make her nervous. This was her first class, but you wouldn't have known because she did such a great job and breezed right through it. She gave us all samples of her fabric as shown in the photo below. She has much better photos of her fabric on her site so please refer to those as I think the color might be off a bit in my photo, but still, how cute is this???
Melissa's classroom was well-attended and because she clearly put so much thought into the design of her line, she was able to talk about it comfortably and in great detail. She also showed off a great quilt she designed... all of which can be seen on her fabulous must-read blog.
I squeezed in a nap Friday afternoon and then it was off to this year's Fabric 2.0 Meet and Greet! I remember seeing all the photos from the spring party and I was thrilled to get my invitation this year. But I'll go ahead and admit, somewhere down the line as I've gotten older, I've lost some of my social skills (probably because I sit in front of a computer all day, every day) and meeting and greeting has gotten increasingly difficult for me! I was really nervous as I walked to the party from my hotel. I remember when I was younger, I would talk to anyone, anywhere, in just about any situation. But now, going to a party like this, especially by myself, is a real challenge. I longed for my husband to be with me. Not only is he great at meeting people but I was already missing him terribly at this point. Thinking back on the party, however, it was probably a good thing he was not with me. If he had been, I'm sure I would have clinged to him all night and wouldn't have met half of the nice people I ended up meeting.
First, I met Melissa and through her I met some really nice people, including Bari J., a super-cute, super-sweet textile and product designer. She has some great photos from quilt market over at her beautiful blog. On a side note, I love that she takes the time to round the corners of the photos on her blog and I also MUST figure out how she does those lovely post titles! After talking with the two of them for a while, I made my way to the food area, then the drink area. I didn't know anyone else at the party (by sight) so I sort of stood off by myself over near the edge of the party and pretended to admire the gorgeous sunset. Okay, I was actually admiring it because it was one of the most stunning sunsets I have seen in a while, but it helped that it gave me something to do since I didn't have anyone to talk to and my anxiety level was creeping up.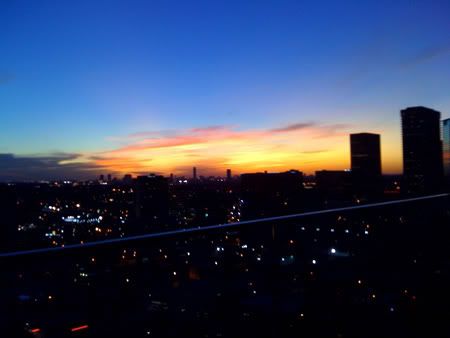 But wait! Enter two cool, sweet, stylish Austin ladies and suddenly I'm not on my own anymore! Becky from Upsiedoodle (love that name!) and her friend (wish I could insert a name here, but without a card for reference, I can't remember) started talking to me and they were absolutely fantastic! The thing about me is, once we start talking I'm fine. I'm great, actually! I just get hung up on initial contact so it was really nice to meet these girls and make new friends.
Next up I met Linda from Craft Apple and Cindy from Revel Designs. They were fabulous! I really enjoyed their company. And I am in love with the chemisette bag from Craft Apple. I would love to make it one of my first projects after a few sewing lessons but it looks kind of complicated. Might have to work my way up to that one! Thanks to both of them for their kind mentions of me in their market updates. Very cool!
At this point in the night I was starting to get over myself and feel a bit more comfortable mingling. Was it the wine or were my old social skills starting to kick back in? Hard to say. Next I met Myrinda from Fabric Hound. She might be my complete opposite, personality-wise. She was so full of energy and so talkative with everyone! I envied her. Had I hooked up with her at the beginning of the night I probably would have met every person at the party! As it was, I quickly met about 20 people at her encouragement, so that was really nice. One of those people was Diane of Bee Square Fabrics. She was great to talk to and I noticed she has a photo of Myrinda and me on her blog- how cool! Thanks, Diane!
I considered leaving the party around this time but I knew I would have kicked myself if I'd left without meeting Jay McCarroll. I'm such a big fan of his and he'd been surrounded by people all night, so I knew talking to him was going to be tough for me. Only it wasn't. Not even a little bit. He was the easiest person to talk to! He's so genuine and funny and I immediately adored him! He was at the party with his sister, Janet, whom I would get to know a lot better later. Jay asked me lots of questions and I found myself spilling all my deepest, darkest secrets within about 2 minutes of meeting him. Well, nothing was that deep or that dark. But I was still shocked at how comfortable I felt with him. I could've talked to him all night. I found myself talking about my husband, our marriage, my work, my crazy past. At this point I became a little self-conscious about talking so much and I wasn't sure if it was Jay's magnetic personality or the wine that was making me open up like that, so I decided it was time to call it a night and walk back to the hotel.
Said my goodbyes and ... Success! What was I so afraid of? It was just a party full of tons of nice, creative, happy people. Nothing to worry about! The thing is, I can tell myself not to be nervous in these situations but I guarantee that when next year's party rolls around, I'll be just as scared. Then again, maybe not. Next year I'll already know tons of people! And next year I'm going to take pictures of more than just the sunset! My only regret is that, according to other blogs, there were a lot of people there I would have liked to have met. Not knowing what everyone looked like, I thought it might be rude to walk around looking at people's nametags. Now I'm thinking that would have been a good idea. I missed meeting so many cool people!
Next up: Part Three! Wow, this is really fun. I know I keep singing Melissa's praises, but thanks to her for encouraging me to get all of this down. It is a lot of work, but I'm already happy I've taken the time to document so much of this thrilling experience! Two more days to go!