Perhaps you can tell by my lack of blogging that I have been a little busy lately. Yes, I've been working in the big city and boy, do they ever work hard around here! Because I'm used to working long hours, I wasn't worried about the work at Domino. But working at home is so completely different from working at a job in Times Square! I forgot to factor in the physical aspect of living and working in Manhattan and I have been coming home every night totally exhausted! Remember when I mentioned that I wake up and take about ten steps to get to my studio? Well, I have been all over this city now and I have probably walked more in the last week than I have in the last year in Memphis. I swear, I'm not exaggerating even a little bit! And it is not just that I am walking more. I am also walking faster - WAY faster. In fact, I think in Memphis the pace at which I have been walking might be considered jogging. I know for sure that you would not see anyone walking this fast in Memphis unless they were in exercise clothes. Here is a pair of cute Banana Republic shoes I bought to wear to work: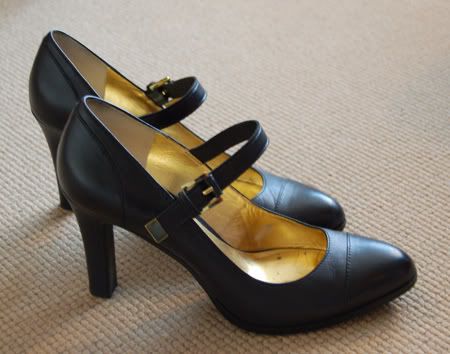 And here is what they were replaced with as soon as I left work on Tuesday, my second day: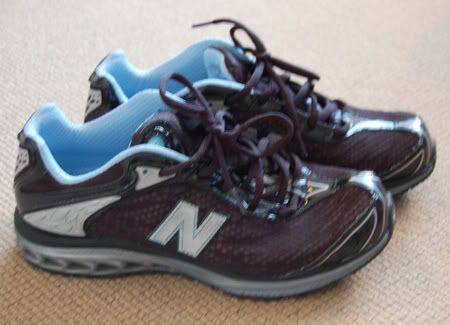 All concerns about fashion and style flew right out the window! So, yes, I'm dressing poorly, but the great part is that I really NEED this physical activity. I realize how out of shape I am and I'm so glad to have had this experience to shake me up and get me out of my ten-steps-a-day routine! I feel healthier already and I'm sleeping like a baby. One of the nicest things has been the walks we've taken following our dinners. It feels so good to walk back to the hotel after a great meal and the weather has been perfect!
I would love to share all the details about my time at Domino and I have really missed writing, but I must get some more work done before bed. I've been catching up over the last couple of days and it has been such a nice change to be working from a desk with a view of the Chrysler building. I'm happy to have had a small break from Domino... It is not that the job isn't as great as I'd hoped (I've already been on two photo shoots and the people could not be nicer!); it is that being in the Domino offices has filled me with such inspiration that my brain has been swirling with new ideas! There are awesome mood boards and books and fabrics and products all over the office and how can you look at all of that on a daily basis and not be inspired to create something beautiful of your own?
I've been taking detailed notes about the job so I plan to give a great update once I get back home and I have so much to write about! For now, however, I'm going to continue to work and take in all the beauty and excitement of the city! I can't believe a week has gone by already! I'm feel like I'm starting to get into the swing of things around here and now I only have a week left! I'm not sure I ever want to leave!
NOTE. I wrote this last night but the hotel internet was down so I am posting it tonight with this minor update: One of my duties today was to go through these huge bins of fabric samples and separate them by vendor to get them ready for return. It was quite tedious work and probably would have seemed like torture if I had been separating say, forks, or something. But it was so fun because I was pulling out swatch after swatch of beautiful fabric. I wanted to stop midway through and duck into a corner and start drawing. I'm actually about to do a little of that right now before turning in for the night. Big day tomorrow... I'm catching a 7 AM train to another photo shoot! I'll probably be asleep within the hour. Good night!